Blizzard conditions on the way for many Thursday into Friday
10 am update
Gusts of wind will replace snow on Thursday. Winds will increase to 20-25 mph in Southwest Minnesota, gusting to 30 mph. Friday's winds will pick up even more. Early morning wind chill on Thursday and Friday ranges from -30°C to -45°C.
Blizzard conditions occur in many regions
Many areas saw significant fresh snow. Totals ranged from about 4 to 8 inches around the Twin Cities and central Minnesota. Some parts of the North Shore around Tofte and Lutsen had legs visible. Here are the totals so far:
The map below is a broader smoothed version of total snowfall. Some of the tallest are found in the Twin Cities area. Higher amounts around the North Shore are not yet reflected in this overnight analysis.
Snow showers will remain in the Arrowhead area on Thursday with more snow. A more scattered light snow shower is likely on Friday, but the bigger problem is a snowstorm.
Additional snowfall will be limited to most of Minnesota's Far East.
Blizzard warnings are in effect for much of Minnesota from noon through the afternoon and evening, with increasing winds and reduced visibility as a result of snowstorms.
Before you continue reading, please take a moment to donate to MPR News. Your financial backing ensures that factual and authoritative news and context remain accessible to all.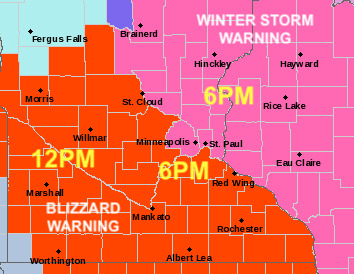 Gusts will be strongest in southwestern Minnesota on Thursday, with gusts in the range of 25 to 35 miles per hour.
High temperatures on Thursday will remain below freezing throughout the day across the state.
Wind chill values ​​are between -25 and -40 degrees, making it dangerously cold. In these conditions, exposed skin can freeze in just minutes.
Winds will pick up further on Friday, with gusts of 40 mph in southern Minnesota and potential over 50 mph on the North Shore.
Friday morning will be dangerously cold again, and could get even colder.
Temperatures remain very cold with freezing temperatures through Sunday morning. By Sunday afternoon, high temperatures will be above freezing in the south. This frigid Arctic air will finally leave after Sunday, allowing warm air to return to the region.
By Wednesday, high temperatures could exceed freezing in much of southern Minnesota.