Tracking Snow, Rain, Wind Headed to Boston, New England – NBC Boston
Strong winds, coastal flooding and storm warnings have been issued as heavy rain and snow are expected in New England starting Friday. Here's how the storm is expected to unfold.
Rain and snow in the west and southwest as soon as this Thursday evening. Winds will pick up on Thursday night, but will be strongest Friday morning. The heaviest rainfall also occurs during the early morning hours, typically with 1 to 2 inches of rain in the most affected areas.
Temperatures will remain in the 40s on Thursday, but will ease into the 50s on Friday. Liquid precipitation will therefore continue over most of central and eastern New England.
However, immediately after heavy rain, the air turns cold and the moisture left on the roads can freeze. This can lead to slippery conditions on untreated roads.
A passing cold front may bring showers and snow in the afternoon. Communities on the Cape and South Coast will continue to see more snow early Saturday.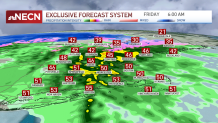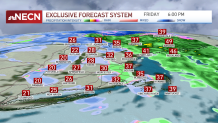 Coastal areas such as Gloucester and the Lower Cape are expected to experience the worst, with heavy rains, high winds and possible coastal flooding.
The gusts will be strongest along the coast of the Cape and Islands, and will also ravage the western slopes of the Green Mountains. Gusts of up to 60 mph are not surprising in these areas.
The strongest wind timing is from 4 AM to 10 AM on Friday and can continue in the late afternoon and early evening until 10 PM on Thursday night.
This wind increases the likelihood of breaking waves ranging from 6 to 10 feet along the coast, increasing the risk of coastal erosion. Light to moderate flooding can also affect coastal areas from Connecticut to Penobscot Bay in Maine.
Storm and high wind warnings are in effect through early Saturday. Offshore waters can rise up to 17 feet, increasing the risk of capsizing. Masters should take precautions and stay in port or, if possible, secure their vessel for dangerous situations.
The forecast for Christmas Eve calls for cold winds below zero on Saturday morning, rising to single digits by Saturday afternoon. Sunday is another chilly start to Christmas with sub-zero winds, a sunny, chilly afternoon, and highs in the high 20s.
A 10-day forecast calls for temperatures to remain in the 30s through the middle of the week, rising slightly to the low 40s by the weekend.