Buffalo Winter Storm: Police identify local hero who saved several lives
Police are believed to have saved several lives and two dogs after breaking into a Buffalo-area school on Dec. 23 and finding shelter from last week's deadly winter storm in western New York. They say they found a local hero.
The Cheektowaga Police Department announced Thursday that they have identified a "Merry Christmas Jay" who broke a window to bring more than 20 people inside Pine Hill School during a raging winter storm.He is 27. My name is Jay Withey, and I'm a mechanic from Kenmore, NY.
"We have identified an amazing Jay with the help of his friends and family!" the Metropolitan Police Department said on Facebook. "Our chief was able to speak with him and thank him for his heroic actions."
Weizzy was recognized for his selfless actions during the storm, helping several people who had run out of fuel and were trapped in a blizzard.
BUFFALO WINTER STORM: Police search for hero who saved several lives
"I had to do it to stay alive," Withey told WBEN radio on Thursday.
He explained that the truck got stuck in the road and found no shelter in town.
"I walked house to house to see if I could find shelter, a house with lights on. I had the $500 I was offering to sleep on their floor. Unfortunately, no one allowed him to stay at home.
He spent most of the night sleeping in his car with two strangers, running the engine to warm up. By Christmas Eve morning, the truck ran out of fuel and had to find better shelter.
West New York death toll continues to rise as winter storms rage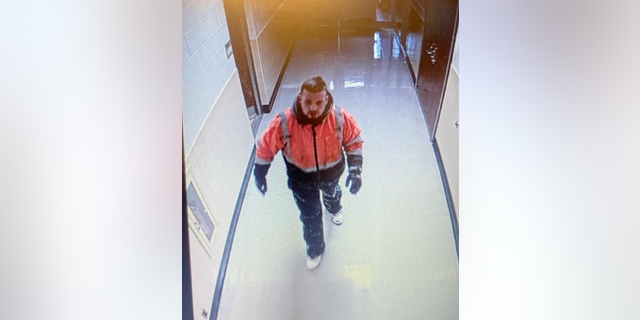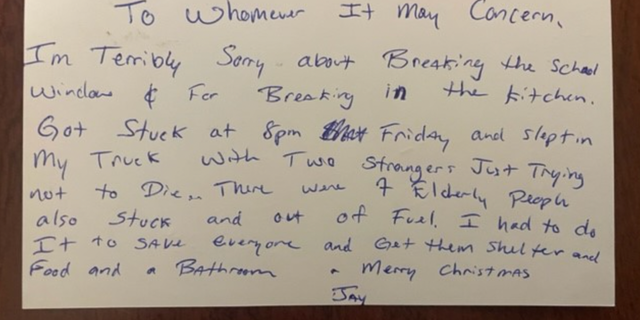 The school was near where Weizzy got stuck. "I was assured that the power was on, the heat was there, and the food was there," he told the station.
After Withy broke into the school, he returned outside and braved the bad weather to collect the others who were stranded in the storm. In total he helped 24 people enroll at Pine Hill School, where they were able to find shelter and food and use the toilet.
Weizzy left a note inside the school explaining why they had to break in.
"I'm really sorry that I broke the school window. [and] For breaking the kitchen," the note read.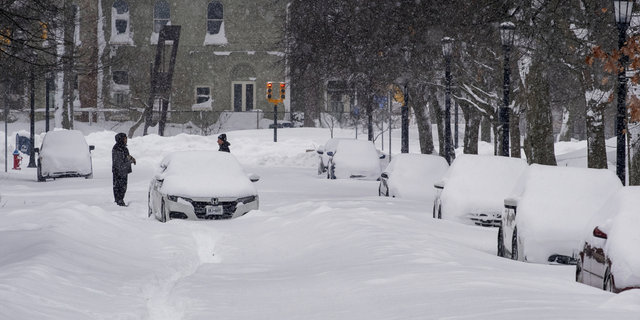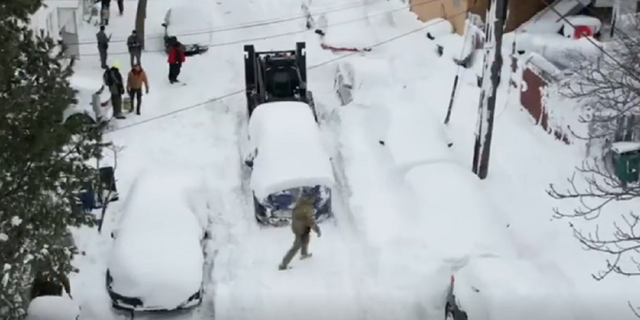 "Stuck at 8pm on Friday, slept in a truck with two strangers. Just trying not to die. Seven elderly people were also stranded and had no fuel. All and shelter and food and bathrooms," Withey wrote.
School keychains received an alarm about a break-in on Friday night, but the worsening weather prevented police from responding immediately.
When the officer finally arrived at the school later that weekend, he found a note from "Merry Christmas Jay."
Cheektowaga police reviewed surveillance footage inside the school and said they "witnessed people taking care of people."
"The freezer was full of food, but no one touched it. They ate only what they needed to live. Children used gyms to play, and smart boards were pulled out of classrooms. I just saw the latest news," said the Cheektowaga Police Department.
CLICK HERE TO GET THE FOX NEWS APP
"They had two dogs. No one knew they were there when they left safely."
At least 39 people were killed in winter storms that hit Buffalo on Friday and Saturday.
Hailed as a hero, Withey told WBEN he now believes "everything happens for a reason". Had he found shelter elsewhere on Friday night, the people he rescued could have died in the storm.
Fox News' Paul Best contributed to this report.