Dal, dumplings and a giant cookie: Broke Vegan's comfort food recipes | Vegan food and drink
Stout stew with root vegetables and dumplings (above)
This hearty and comforting dish is perfect for a cold-weather dinner.
Preparation 20 min
cooking 1 hour 15 minutes
serve 4–6
2 tonsbsp olive oil
2 large onionsfinely sliced
150g chestnut mushroomhalved
1 heaping tonbsp plain flour
2 carrotspeeled and cut into large chunks
2 parsnipspeeled and cut into large chunks
half swedish (about 400g) Peel and cut into bite-sized pieces
½ celeriac (about 500g) Peel and cut into bite-sized pieces
150g pearl barley
2 a sprig of thyme
Dark soy sauce 2 tablespoons
2 tonsbsp tomato puree
salt and black pepper
750ml vegan stock
500ml vegan stout
100 grams spinach
For gyoza
150g flour
1.5 tonssp baking powder
75g vegetable sweat
1 tonbsp chopped thyme leaves
¼ tonsp salt
¼ tonsp Coarse ground black pepper
Heat the oil in a large casserole dish with a lid, add the onions, and cook over medium heat until soft and translucent, 8 minutes.
Add mushrooms and cook until lightly browned, 5 minutes. Add a tablespoon of flour, stir, and cook for another minute. Add all the root vegetables along with the pearl barley, thyme, soybeans, and tomato puree, and a pinch of salt and pepper. Add dashi stock and stout and mix. Bring to a boil, then reduce heat, cover and simmer for 30 minutes.
Remove the lid, stir the stew lightly, increase the heat slightly, and simmer for an additional 10 minutes, until the sauce has reduced and thickened.
Meanwhile, mix all dumpling ingredients, add 100ml of water and mix until combined. Divide the dough into 8 equal parts and roll them out.
Stir the spinach into the stew, carefully place the dumplings on the surface with a slight gap between them, cover and cook for an additional 20 minutes or until the dumplings are puffed up and firm to the touch.
Edamame fried rice
Once all the ingredients are ready, this is a very quick and easy dinner that whips up in minutes and is a great way to garnish leftover rice.
Preparation 15 minutes
cooking 12 minutes
serve Four
2 tonsSesame oil
3 cloves of garlicgrated
2.5cm piece of gingerpeeled and grated
2 carrotspeeled and finely chopped
700g leftover freshly cooked ricepreferably long grain or basmati
250g Frozen or raw edamame with pods
2 tonsbsp tamari or light soy sauce
2 tonsBSP seafood sauce
salt (option)
For early pickled radish
100 grams radishfinely sliced
50ml rice vinegar
pinch of sugar
a pinch of salt
serve
3 green onionssliced ​​diagonally
50 grams store-bought crispy fried onions
First, make the pickled daikon radish. Place all ingredients in a small bowl and mix. set aside.
Heat the sesame oil in a large wok or frying pan, add the garlic and ginger, and sauté over medium-high heat for about 1 minute until golden brown. Add carrots and sauté until slightly softened, about 3 minutes. Mix while loosening the rice and mix with other ingredients.
Add the edamame, tamari or soybeans, hoisin and stir until everything is evenly coated in the sauce. Cook for an additional 5 minutes, until the beans are bright green.
Add salt to taste if desired (make sure the sauce is well-salted) and serve in a bowl topped with radishes, scallions and crispy fried onions.
cauliflower, carrot and spinach dal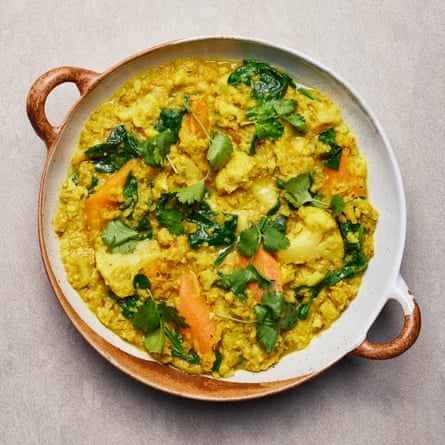 Who doesn't love a soothing dal, especially when it's so easy to make? These vegetables are very easy to replace. Enjoy on its own or with roti, flatbread or rice.
Preparation 20 min
cooking 50 minutes
serve Four
2 tonsbsp vegetable oil
1 tonBSP Cumin Seed
1 onionchopped
2.5cm piece of gingerpeeled and grated
2 tonssp garam masala
1 tonsp ground coriander
300 grams cauliflowerdivided into florets
300 grams carrotpeeled and cut into bite-sized pieces
200g red lentilswashed and drained
1 tonsp ground turmeric
1 tonbsp salt
handful of spinachcoarsely chopped
a handful of coriander leaves,serve
Heat the oil in a large pan, add the cumin seeds and fry for a few seconds over medium heat. Add onions and cook until soft and translucent, about 8 minutes. Stir in the ginger, garam masala and ground coriander and cook for an additional 2 minutes.
Add the vegetables and lentils, stir, coat with the spiced onion, and top with 750ml of water. Reduce heat to low and simmer gently for 20 minutes.
Skim surface residue from liquid, stir in turmeric and salt, and cook for an additional 15 minutes or until vegetables and lentils are tender.
Stir spinach through lentil mixture and cook until tender, 2 minutes.Serve in a bowl topped with coriander leaves.Peanut butter skillet cookies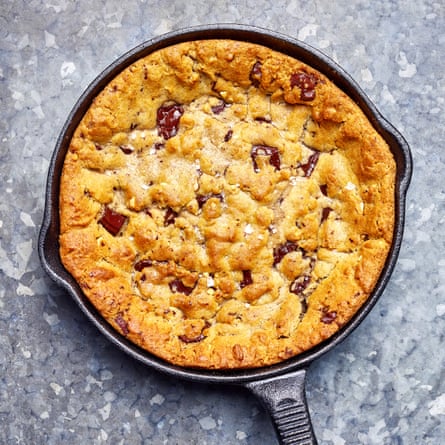 A gooey cookie and a dessert in one. It is especially delicious when eaten with vegan ice cream.
Preparation 15 minutes
cooking half an hour
serve 8
100 grams vegan buttersoftening and even adding for greasing
100 grams smooth peanut butter
150g light brown sugar
100 grams Granulated sugar
2 tonssp vanilla extract
2 pilesbsp applesauce or puree – No problem with store purchases
250g flour
1 tonsp sodium bicarbonate
1/2 tonsp salt
125g vegan dark chocolatechop into smaller chunks
Heat oven to 180C (160C fan)/350F/Gas 4 and grease a 23cm heatproof skillet or pie plate with vegan butter.
Place vegan butter, peanut butter, sugar, and vanilla in a large bowl and whisk until pale and creamy. Stir in apple sauce or puree, sift in flour, soda, and salt and mix gently. Finally mix in the chocolate chunks.
Drop the cookie dough onto a greased skillet or plate and spread it over the entire base.Bake for 25 to 30 minutes or until the cookie is crisp on the edges and slightly sticky in the center.
Cut into wedges or simply scoop and serve. Place leftovers in an airtight container and bake for up to 5 days.
The recipe extracted from Broke Vegan: One Pot, by Sam Dixon was published this week by Aster for £12.99. Visit guardianbookshop.com to order a copy for £11.30.