Large, messy winter storm getting closer
Monday will start with low clouds and patchy fog. Afternoon highs will hit 10 degrees in northwestern Minnesota and 20 degrees elsewhere. Twin Cities should reach about 27 degrees with light winds.
A powerful winter storm is coming
A soggy, March-like winter storm is heading our way from Colorado on Monday. A light winter mixture will form in southern Minnesota Monday afternoon. Snow will move further north on Monday night and Tuesday.
This storm is a huge weather maker with freezing rain, sleet and heavy snow from the Central Plains to the Upper Midwest, with the potential for severe weather in the south.
Here are the Winter Weather Warnings and Advisories in place as of Monday morning:
freezing rain
Freezing rain and sleet will mix into an ice storm in south central Minnesota by Monday night. For areas such as Mankato, Waseka, Owatonna, Jackson, Fairmont, Albert He Lee, and Austin, an ice storm warning was issued at 6 p.m. Monday and will continue through Tuesday. About a quarter inch or more of ice should be expected by Tuesday. Travel is going to be difficult. Power lines are at risk. Southeastern Minnesota, including Rochester, may experience less freezing rain and sleet.
heavy wet snow
To the north of the storm, snow will be the dominant weather factor. Very wet and heavy snow will fall in southwestern Minnesota Monday night and spread across central Minnesota and into northwestern Wisconsin on Tuesday. Snow should fall hardest on Tuesday. The above winter storm warnings are issued at various times, but usually begin Monday night.
Before you continue reading, please take a moment to donate to MPR News. Your financial backing ensures that factual and authoritative news and context are accessible to all.
Many areas generally west of the Twin Cities could see about 8 to 12 inches of snow by Wednesday. The heaviest snowfall is likely to occur in southwest and west-central Minnesota, with most areas expected to receive a foot or more of snow. The most common is in the Buffalo Ridge area of ​​southwestern Minnesota, where it appears to be able to reach about 20 inches.
Snow amounts can be north of the winter storm warning. Northwest Minnesota is free from storms.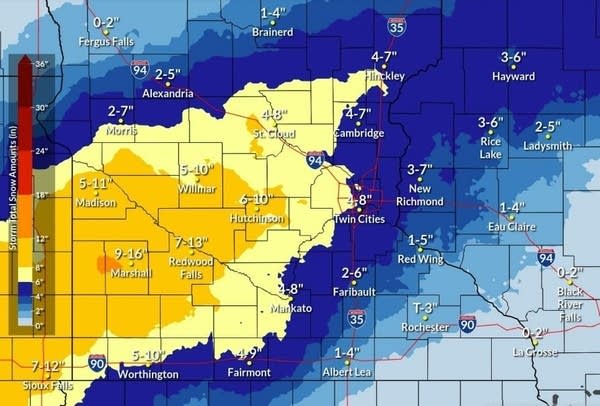 winter mix
Along the ice-snow border, it will be a wintery mix of freezing rain, sleet and snow. This area can change over time and gradually turn into all snow as the storm progresses. The snow will taper off and probably stop by Wednesday.
twin cities
In the Twin Cities area, Monday will be cloudy with morning fog and a chance of light rain. It could be a winter mixture by late Monday afternoon or early evening, especially on the south side. The Winter Storm Warning will begin at 9 PM and will last Tuesday through midnight. Light snow will continue through Wednesday. Total snowfall in the metropolitan area is about 6 to 8 inches, with the heaviest in the west.
wind is not a factor
The wind will be considerably weaker in this storm. The lightness of the wind, along with the wetness of the snow, prevents drifting.
No Arctic plunge this time
There is no Arctic air waiting to hit us after the storm has passed. Thursday's highs will mostly be around 10 degrees he to 20 degrees he.
And we need to ease up a bit by Saturday.